Ventura County Star
By Brenda Loree
Monday, August 24, 2009
Artist's mural tells history of Ventura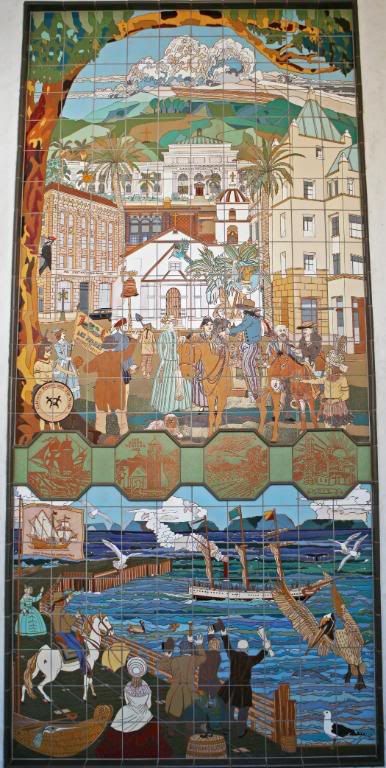 The story of Ventura is told in a tile mural that was recently installed by Ventura artist Michael Kelly in the entryway of downtown Ventura's newest building, the Offco Building on California Street.
Kelly, whose tile work already graces several renovated buildings on Main Street, mounted the 12-by-6 foot mural recently. "I call this 'public-private' art," Kelly said.
Created in early
California Spanish Revival
style in deep, rich colors, Ventura's story commences at the bottom of the mural where Chumash natives paddle canoes. Below them appears the word "
Shisholop
," Ventura's original name.
Kelly put in two months of research for the mural with the help of the
Museum of Ventura County's
librarian. "Everything depicted is authentic, down to the saddles, canoes and the clothing worn by the Chumash,
Father Serra
and the city founders," he said.
Kelly depicts the old original pier — a wide wharf on which off- and on-loaded goods were stored on what is now Front Street.
Ventura's oil industry was beginning to take off, so oil would have been shipped in the 1860s, he said.
Other historical figures depicted in the mural are Junipero Serra, and founding settlers.
The
San Buenaventura Mission
and its original wooden bell are rendered. The bell along with the clothing and saddles depicted is stored at the museum and will be on display again after the museum's renovation is complete.
A series of green plaques running across the tiles show actual images taken from the bronze doors at Ventura City Hall. Ventura's famous old
Las Palmas Chile Factory
made the cut, too.
The First National Bank, which still stands at California and Main streets as a CSU Channel Islands museum, and the classic 1920s Groene Building at Chestnut and Main (now the Watermark Restaurant) are on display, as is Ventura's City Hall at the top of California Street.
Eucalyptus trees, native hummingbirds, woodpeckers, pelicans, a humpback whale, even Five Trees, which is now Two Trees on the foothills behind Ventura, are pictured. The Topa Topa Mountains preside over it all in the distance.