By Ellen Allen
If you live in Redondo Beach and have children in school, you might recall last year when your child brought home a bisque tile that they had colored in a manner similar to the famous Malibu tiles. The children were studying Malibu potteries through the "Hands on Art" education program. This project was presented by Palos Verdes abstract landscape artist, Phyllis Ferrara.
At first glance this may have looked like just another art project, but it is an ingenious way to explore the rich history of California Tiles. Malibu Potteries was just one of several local tile companies that put California on the map in the 1920s. Other local tile manufacturers were Batcheldor, CALCO in South Gate, Catalina Clay Products in Avalon, Taylor Tilery in Santa Monica, Gladding McBean & Co. in Hermosa Beach and Brayton Laguna Pottery in Laguna.
In 1892 Frederick Rindge bought a rancho that stretched from Santa Monica to Oxnard. Rindge established the Hueneme, Malibu, and Port Los Angeles Railroad to keep the Santa Fe Railroad off his land. When Frederick died, his wife, May, became the world's first female railroad president. May's daughter Rhoda Agatha and her husband Merritt Huntley Adamson built their summer home overlooking the sea and another home in Serra Retreat. In order to provide tiles for these new homes, May Rindge hired the finest ceramic craftsmen and started the Malibu Tile Works in 1926. The plant only made tiles until 1932 due to a devastating fire.
The Adamson House is filled with many Malibu Potteries tiles; including an Oriental tile carpet made with over 600 tiles. The tiles themselves are quite beautiful and can be found in many places including the Hollywood Roosevelt Hotel and the Union train station in downtown Los Angeles. In fact, you may even have some in your own home as they were used all over southern California.
The Adamson House is located at the Malibu Lagoon State Beach (23200 Pacific Coast Highway in Malibu). Call 310-456-8432 for individual and group tour information. The grounds are available for wedding services and special events.
The Malibu Tile Works glazing technique was as unique as their tiles. The design's outline was put on the bisque tile to as act as a resist to keep all of the wonderful colors separate. The glazes were not painted on but rather blobbed on with a tool that looked much like a baby rubber bulb nose aspirator.
If you think you have Malibu tile or any other kind of California tile in your home, you may want to consider the offer found in the back of More About Malibu Tiles by Ronald Rindge. The Malibu Lagoon Museum has an active tile research committee to authenticate installations of Malibu tiles. Send a photo of your tiles to the committee and they will try to identify the manufacturer and style number.
If you would like to add Malibu Pottery tile in your house, there are some local stores that sell vintage tile.
Wells Antiques
2162 W. Sunset Blvd., Los Angeles (213) 413-0558
Mark Jager Antiques
1012 Mission Street., So. Pasadena (626) 799-2640
Mortarless Building Supply Co.
2707 Fletcher Drive., Los Angeles (323) 663-3291
California Pottery and Tile Works in South Central LA was founded by three bothers in 1994. Patrick, Sean, and Desmond had their own construction company since 1980 and during that time they found themselves captivated by the handcrafted, hand painted tiles from Malibu Potteries. They now continue the rich tradition of making extraordinary tiles using the same methods as the potters at Surfrider Beach. They even color their tiles in the same strange manner with the rubber aspirators!
They now have a spotless 20,000 sq. ft. factory. In the front room they have a reproduction of the Oriental tile rug at the Adamson house. More than likely they will give you a tour of the plant so you can see the amazing artistry that goes into all their custom tiles. They also have their own color lab where they can match your tile to your drapes.
You will find California Pottery and Tile Work at 859 East 60th Street, Los Angeles, CA 90001, (323) 235-4151 7:00am to 3:30pm and at their website, http://www.malibutile.com/.
So if you are restoring or remodeling your home and are looking for a vintage feel, you may consider adding California tile.
Additional resources:
Los Angeles Magazine
"Heavenly Glaze" by Bill Stern June 2001
More About Malibu Potteries 1926-1932
by Ronald Rindge, 1997,
pub. by The Malibu Lagoon Museum
Traditional Malibu Tile Peacock fountain by CPTW.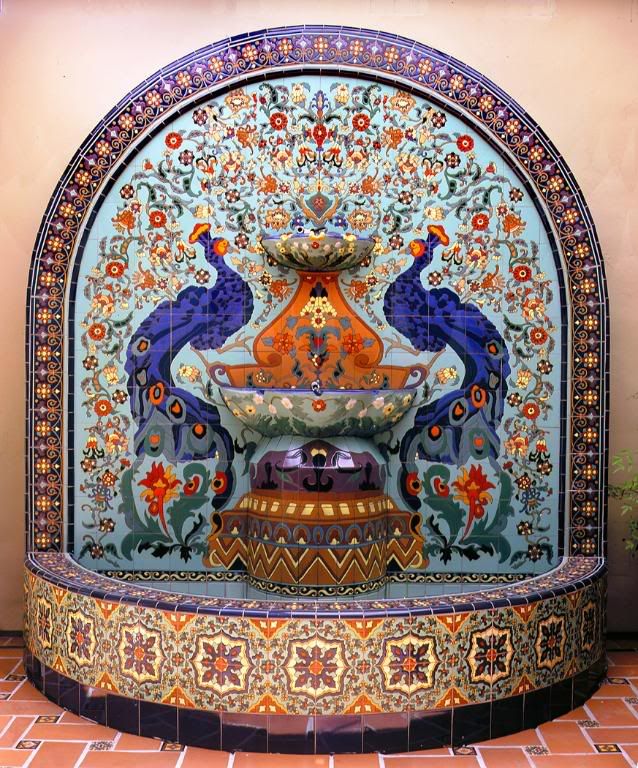 CPTW shows that while they stay true to the traditions of Malibu Tiles, they also continue to push the medium in exciting new directions.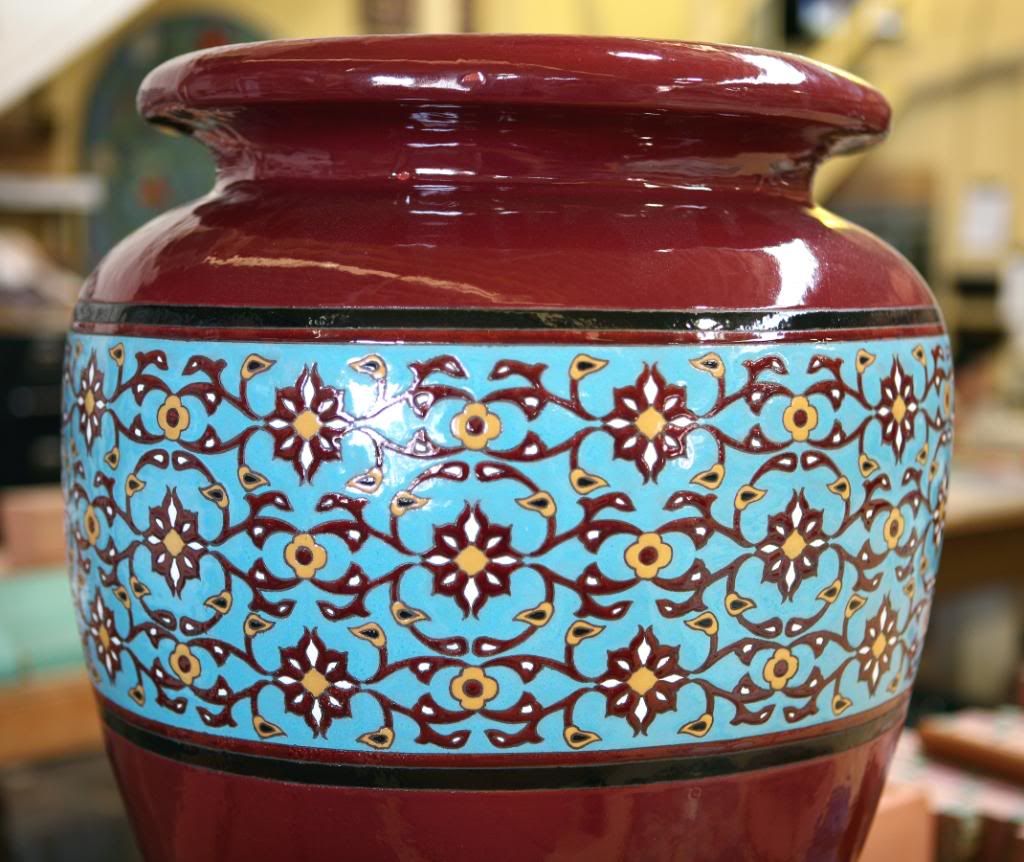 Here we have another application that only CPTW can produce. Decorative tiles can be concave or convex and made to fit any uniqe shape or radius.